Welcome to Wideco (U.S.) Inc.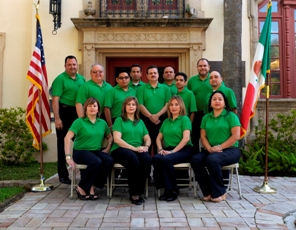 We are your best option for import purchases!
Purchasing Services, Distribution, Merchandise Marketing and Import Administration.
Our Origin
In 1982, following the Mexican Government's changes, it became necessary to create an international purchasing office so Peñoles Group could buy some goods and services from abroad, specially from USA and Canada. This office was called initially PMC International, but some time later it changed to its current name Wideco (U.S.) Inc.
At that time, Wideco worked from the New York offices, in 1989 it was moved to the border with Mexico in Brownsville, Texas, to add the services for crossing the materials (forwarding) into Mexico and sending them to each customer destination in the Mexican Republic.
Vision
Wideco will be recognized by its customers and suppliers as an organization of excellence for the purchase and export to Mexico of industrial goods and services of origin or availability in the United States of America or in Canada by the following:
Providing a service that fulfill the goals of our mission and operating policy.
Conducting ourselves in an ethical and honest manner at all times.
Contributing to the societies in which we operate.
Respecting and honoring those who work with us and on our behalf.
Committing ourselves to work together as a team, so that the whole may be a greater than the sum of its parts.
Sharing our knowledge and skills, and by being continuosly aware that the best we now have is ever the best we are capable of.
Working together so that each and every member of our company can strive to become all they can be.
Mission
Wideco will acquire for its customers the industrial goods and services of origin or availability in the United States os America or Canada in accordance with the following:
By complying with the technical amd quality requirements of their purchase requisitions, always striving whenever possible for direct transactions with the original equipment manufacturer as our subcontractor.
By striving for minimal lead-times of inbound shipments to the border to achieve the earliest possible delivery at the final destination.
By negotiating the lowest possible cost, as well as the best payment terms to optimize the use of the group's available resources.
By monitoring each operation until the satisfactory delivery at final destination is achieved.
By promoting the growth and progress of the company , as well as the well-being, improvement and continuous professional development of our staff.
2016 Holiday Schedule
18Jan
Martin Luther King, Jr. Day.
24,25Nov
Thanksgiving Day.